Description
How can you tell if your business idea will be profitable? Honestly, you can't. But this shouldn't keep you from researching the financial things for your idea. Prepare a "break-even analysis" (to determine your break-even point) will help you to determine your business profits and help you in doing finance projection.
A break-even analysis shows you the amount of revenue you'll need to bring in to cover your expenses, before you make even a dime of profit. If you can attain and surpass your break-even point, you can easily bring in more than the amount of sales revenue you'll need to meet your expenses. Then, your business stands a good chance of making money.
On this event, we will learn how to use break-even analysis to determine your business idea and to make it measurable, so you may know when will you get your break even point so you can measure every profits and losses of finance steps of your business.
AGENDA & SPEAKERS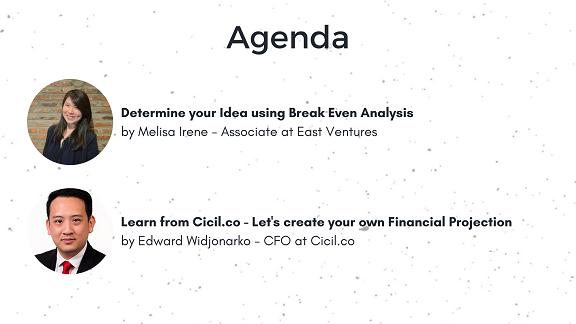 Date
24 March 2017
Book Now